Needlepoint is an art form - hobby - profession and industry to millions of people world-wide.
H.R.H. Alfonso de Borbon once asked me a somewhat life-turning question - "if you do not know where you come from - how can you know - where you are going ?"
Well - applying this question to needlepoint - here is a small history. Then you will decide where to go from here.
The beginning of Needlepoint dates back thousands of years to the ancient Egyptians - who used tiny - slanted stitches to sew up canvas tents. Samples of Needlepoint were found in a Pharaoh´s Cave - in 1,500 B.C.
While needlepoint endures hundreds of years - probably the finest collections are now found in Museums throughout the world.
There are many private collectors of course - yet - difficult to peruse.
THE CLUNY COLLECTION
The Lady and the Unicorn
"Touch", 15th century
The Lady and the Unicorn
"Touch", 15th century - detail
The Fifteenth Century - The Lady and the Unicorn
(La Dame à la licorne) - the modern name given to a series of six tapestries woven in Flanders (wool and silk) - from designs ("
cartoons
") drawn in Paris in the late fifteenth century. The collection is on display in the
Musée du Moyen-Âge
- and often considered one of the greatest works of art of the European
Middle Ages
. Visit the
Museum Site
- to learn more about the designs representing the five senses - plus the sixth controversial -
À Mon Seul Désir
METROPOLITAN MUSEUM OF ART - NEEDLEPOINT
The modern day versions of needlepoint began around the sixteenth century as a domestic hobby - working the canvases with the tent stitches - and using wool with silk hi-lights.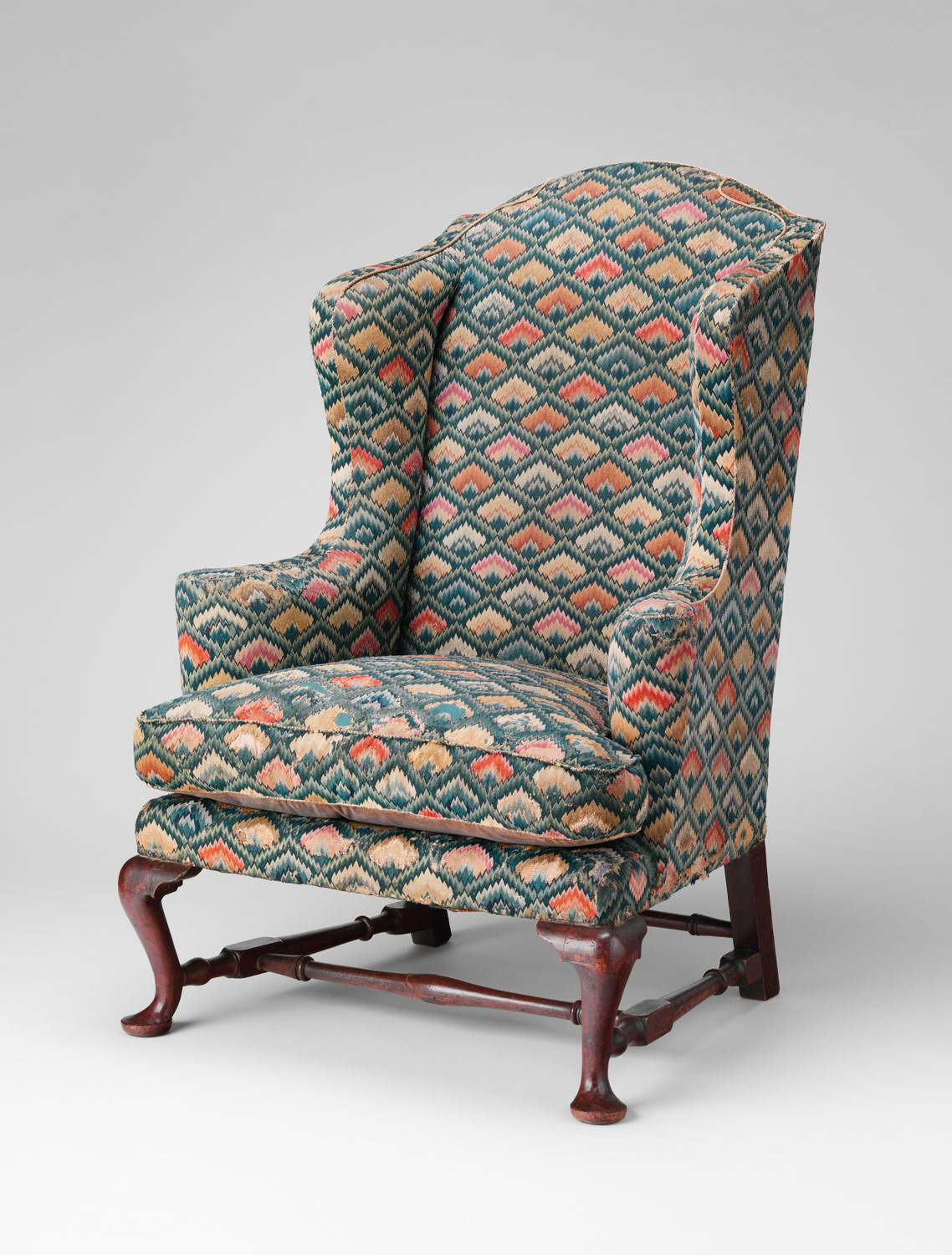 Bargello - Easy chair - 1758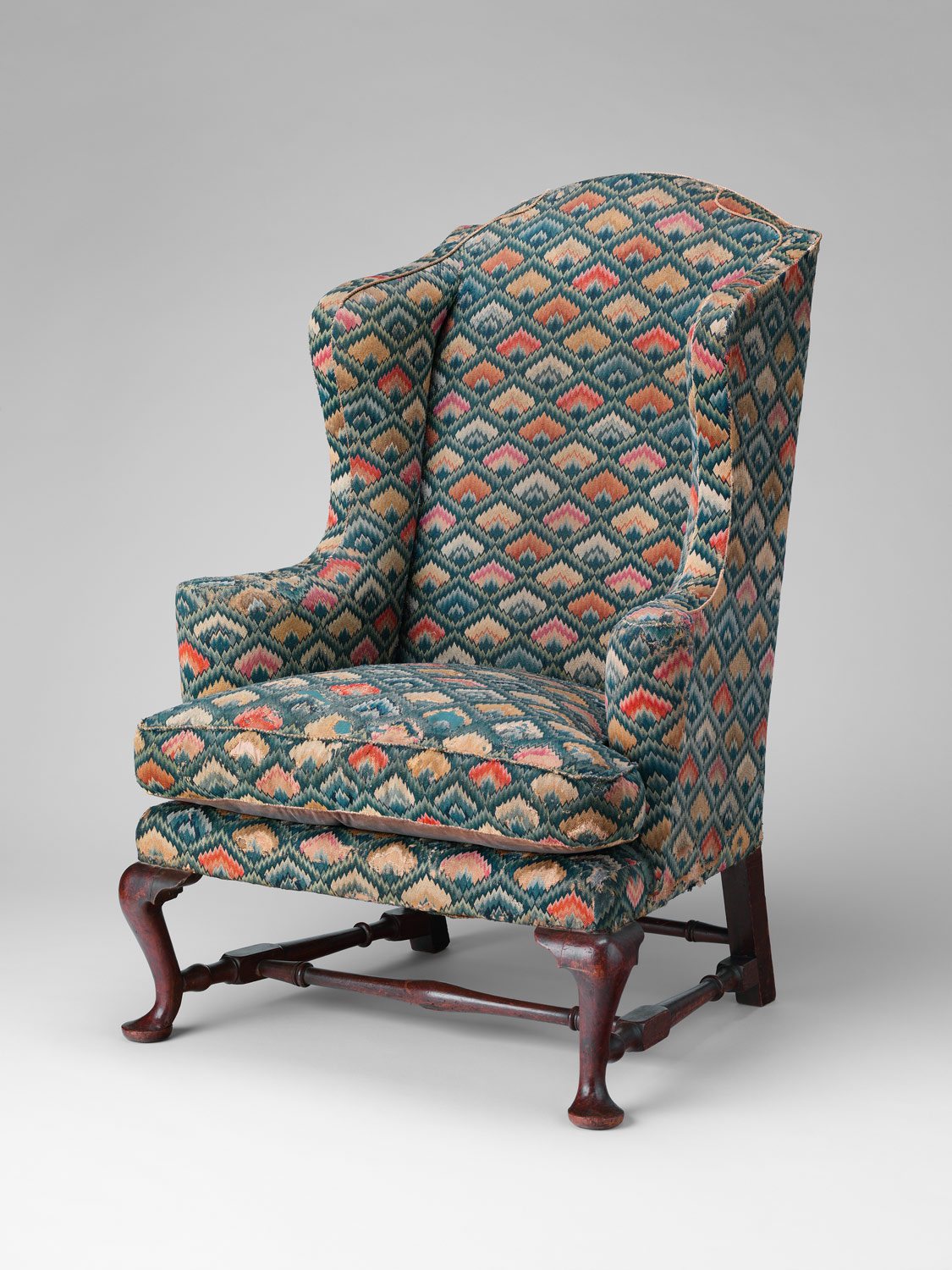 Easy chair - Back
-
1758
In the seventeenth throughout the eighteenth century
Bargello
was the rage and fashionable furniture was very often completely covered in needlepoint designs. This contributed to the need for a more hardy canvas to endure the use on chairs - sofas - benches - headboards - fire screens and carpets.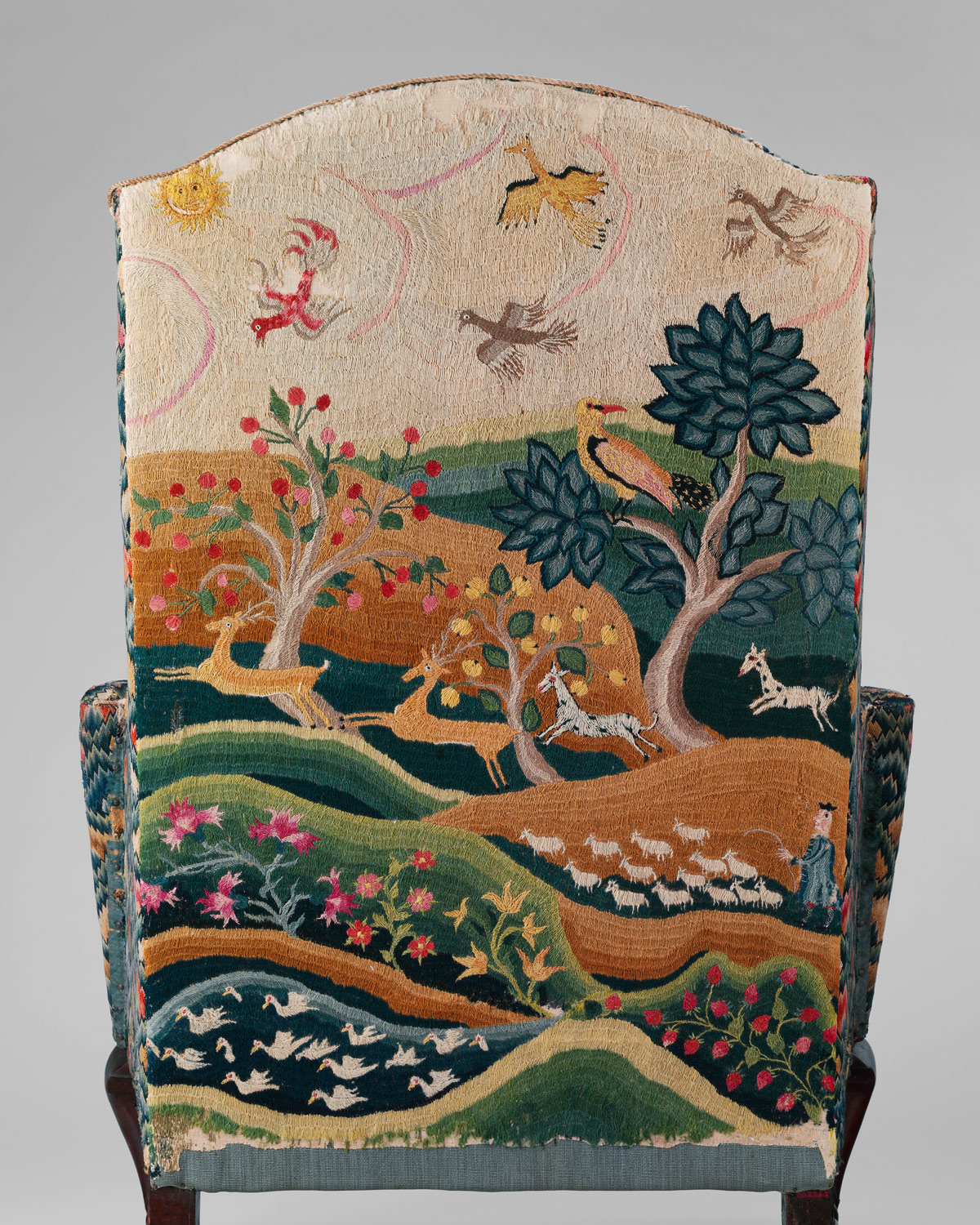 Bargello - Easy chair - 1758
The Met Museum has a lovely Collection of -
American Needlework in the Eighteenth Century
- as seen above - Walnut and Maple Chair by - Caleb Gardner (American, died 1761) American; Newport, Rhode Island.
When you have time - peruse the
Met
website. We absolutely love to lose ourselves for days - as a favorite and fine Museum Website. It is rich in information about
How Medieval and Renaissance Tapestries Were Made
as well as
Needlework
in general.
BERLINWORKS NEEDLEPOINT
Woman's Needlepoint Purse c. 1840
Woman´s Puse ( above ) - Cotton canvas with wool needlepoint (Berlin work) - silk-braided cord - and silk chenille tassels - Europe 6 x 8 in. (15.24 x 20.32 cm).
LACMA - Costume and Textiles collection
.
The evolution continued into the nineteenth century - with the ever famous
Berlin Wool Works
- usually taken from charts - or designs hand-drawn onto the canvas. In 1804 - a publisher in Berlin by the name of Phillison created the very first charted pattern. A design created on a grid where each square represented a stitch. The designs were usually floral.
Berlin Work - Charted Pattern
Berlin Works Pattern - handpainted
Berlin Works Patterns
The patterns were drawn by hand and then transferred to copper plates for printing and then handpainted. These designs were used for petit point (many holes per inch) - cross stitch and half stitch (needlepoint). Eventually - this type of embroidery became known as Berlin Work.
The firm - Elizabeth Bradley - has reproduced many designs from this era:
Popularized in the UK after 1830 - Berlin wool work is a type of cross stitch using soft brightly coloured wool. In 1831 - a Mr. Wilks of Regent Street imported large amounts of quality designs - painted patterns and working materials from Berlin - Vienna and Paris. By the middle of the 19th century - Berlin wool work patterns had become the preferred designs for British embroiderers.
Queen Victoria's daughter - Princess Christian of Schleswig-Holstein founded The Royal School of Needlework in 1872. A successful attempt to reestablish needlework as a prestigious art - as it had once held and in the commencement of the Industrial Revolution - as a respectable form of employment. Influence from the Arts and Crafts Movement could also be seen - as a major contributor to the resurgence of textile art. William Morris maintained how people originally achieved enjoyment through handicrafts as a dichotomy to the industrial process. - Elizabeth Bradley
LACMA


The Los Angeles County Museum of Art - has a dashing collection of -
Needlework
- as seen with the Needlepoint Slippers above.
A lovely refinement - men still wear needlepoint slippers today in some homes - especially in France - and England.
Read More -
Ann Warder - also Berlin wool work in America, 1840-1865 and Bethlehem Digital History Project
MODERN NEEDLEPOINT
Brigitte Berlin - Needlepoint Apartment
Yes - Brigitte Berlin - Andy Warhol´s best friend for 35 years - worked at the front desk of the Factory - surrounded by her pugs and doing needlepoint. Above is her
apartment - full of needlepoint
NEEDLEPOINT BOOKS AND INTERNET SOURCES
A great site for more stunning stories about the -
History of Needlework
- is found at ANG.
There are many books - internet sites and stitch guides available - that teach you to create hundreds - if not thousands - of different stitches. Many books are "re-cycled" and inexpensive in book stores or through websites.
The Needlepoint Book
We highly recommend acquiring -
The Needlepoint Book
- written by Jo Ippolito Christensen ( first published in 1976 ). The first part of this 400 page treasure is filled with basic information on needed supplies and equipment - including the basic procedures and techniques. The second half teaches you about the basics of color and design - and includes instructions for designing a custom project. The treasures of the book are found within the 250 pages aproximately 400 well-charted - photographed stitches.
Completely revised and expanded - the updated edition includes the above - plus:
A 16-page colour insert with all-new projects
A crash course on the new fibers
Updated information on materials, as well as how to work with and care for them
Dozens of new stitches and a chapter on the popular openwork stitches
More than 1,300 illutrations<
369 stitches
Diagrams for all projects shown.
The Needlepoint Book covers all the information you need to learn needlepoint and improve your technique -- in a single comprehensive volume. You'll find sections on: choosing the right project - transferring designs - left-handed needlepoint - finishing techniques - cleaning - and more.
The Needlepoint Book is a complete guide to the craft - and the only book you'll ever need as a reference to become an expert at creating exquisite works to be treasured forever.
Berlin Woolwork
Hope Hanley wrote eight - ten books about Needlepoint - and the author is very precise and clear. Hope Hanley was in the vanguard of the upsurge of interest in embroidery in the middle part of the last century. She was one of the first authors to research the craft and make a sweeping treatise on it. Her mother was a needlepoint designer so she learned early on how to do the stitches properly and how to design.
Hope Hanley - Needlepoint
She explains the use of embroidery in America since colonial times and the changes in design and complexity of the projects. There are numerous b&w photos of museum pieces and the cover picture is a pole screen from the 18th century from England in the Metropolitan Museum of Art.